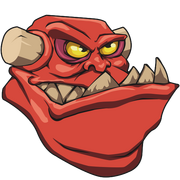 Bile demons are huge gluttonous creatures that spew forth a poisonous stream of gas. Hygiene isn't one of their strong points and have developed an immunity to poison.
They are attracted to wealth and cannot get enough of it! They will make their way to the nearest treasure or stone storages when placed in an enemy dungeon.
Apart from their love of gold and stone, they also love to eat and, as such, like to reside in the Hatchery, gorging themselves on chickens.
In order to get a Bile Demon for your dungeon, you must own a Hatchery .
Defensive Location
Edit
Seeks
Closest Treasury or Warehouse
Passive
Immune to Poison
Strength
6x damage to Treasuries and Warehouses
(increases with level)
Weakness
5x damage from Skeletons
(decreases with level)
Creature Targets
Ground
Attack Speed
2s
Attack Range
2 Tiles
Move Speed
160
Housing Space
4
Summoning Time
3m
Training Upgrades
Edit
| Level | Damage | Health | Extra Damage to Resource Rooms | Extra Damage from Skeletons | Training Time | Training Cost (Gold) | Hatchery Required | Summoning Cost (Gold) |
| --- | --- | --- | --- | --- | --- | --- | --- | --- |
| 1 | 48 | 480 | 6x | 5x | - | - | Level 1 | 450 |
| 2 | 60 | 615 | 8x | 5x | 12h | 25k | Level 4 | 600 |
| 3 | 74 | 750 | 8x | 4x | 1d | 70k | Level 5 | 750 |
| 4 | 88 | 885 | 10x | 4x | 2d | 250k | Level 6 | 850 |
| 5 | 102 | 1,030 | 10x | 3x | 3d | 500k | Level 7 | 950 |
| 6 | 116 | 1,165 | 12x | 3x | 4d | 1.2M | Level 8 | 1,050 |
| 7 | 130 | 1,300 | 14x | 2x | 5d | 2M | Level 9 | 1,200 |
| 8 | 145 | 1,450 | 14x | 2x | ? | 13M | Level 11 | 2,500 |
| 9 | 159 | 1,585 | 14x | 2x | 11d | 16M | Level 12 | 5,000 |
| 10 | ? | ? | ? | ? | ? | ? | ? | ? |
| 11 | 187 | 1,855 | 16x | 2x | ? | ? | ? | 9,000 |
| 12 | 201 | 1,990 | 16x | 2x | ? | 32M | Level 17 | ? |
| 13 | 215 | 2,125 | ? | ? | ? | ? | ? | ? |
| 14 | 229 | 2,260 | ? | ? | ? | ? | ? | ? |
| 15 | ? | ? | ? | ? | ? | ? | ? | ? |
| 16 | ? | ? | ? | ? | ? | ? | ? | ? |
| 17 | ? | ? | ? | ? | ? | ? | ? | ? |
| 18 | ? | ? | ? | ? | ? | ? | ? | ? |