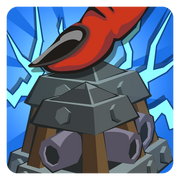 Ever notice how pesky traps can cause a perfectly coordinated and planned raid to go awry?  Now you have the power to keep your best laid plans from being derailed.  I introduce, the Disable Trap spell.  Now you will be able to not only continue along your chosen path, but do it without any outside interference!
- Highlights all revealed Traps
- Tap a highlighted Trap to disable it for the duration of the raid.
NB: only eligible traps which have been revealed are highlighted and can be tapped. This means you can't disable one-shot traps (Chicken Bomb, Boulder Trap, Spring Trap, and U.R. Mine) unless you have the Scouting boost active.  This goes for hidden traps also.
| | |
| --- | --- |
| Usage Type | Tap |
| Mana Cost | 150 |
| Research Cost | 50k Gold |
| Research Time | 12h |
Level
Experience
Traps Disabled
Types of Traps Disabled
1
0
2
Spike Trap, Fireburst Trap

, 

Cannon Trap

, 

Freeze Trap

, 

Poison Trap

, 

Spring Trap, Chicken Bomb, Boulder Trap, U.R. Mine
2
40
2
Anti Air, plus above
3
200
2
Bug Zapper, plus above
4
400
2
Dante's Mound, plus above
5
1,000
3
All above
6
1,350
4
All above