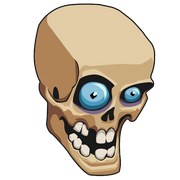 "At least we don't have to worry about feeding them."
Defensive Location
Edit
Cheap to build and they move fast. Best when used in a group. Good at taking out defensive rooms that use a single-target attacks. 
Weak against AOE rooms and traps . Easily crushed by the Boulder Trap.
Seeks
Closest Room
Passive
Immune to Poison
Strength
10% less damage from Room defenses
(percent increases with level)
Creature Targets
Ground
Attack Speed
1s
Attack Range
Melee range
Move Speed
225
Housing Space
1
Summoning Time
20s
Training Upgrades
Edit
| Level | Damage | Health | Percent less damage from Room defenses | Training Time | Training Cost (Gold) | Dungeon Heart Required | Summoning Cost (Gold) |
| --- | --- | --- | --- | --- | --- | --- | --- |
| 1 | 20 | 100 | 10% | - | - | Level 1 | 15 |
| 2 | 24 | 120 | 20% | 1h | 2,000 | Level 2 | 40 |
| 3 | 28 | 140 | 20% | 6h | 5,000 | Level 3 | 55 |
| 4 | 32 | 160 | 30% | 12h | 10k | Level 4 | 75 |
| 5 | 36 | 180 | 30% | 1d | 40k | Level 5 | 95 |
| 6 | 40 | 200 | 40% | 2d | 95k | Level 6 | 120 |
| 7 | 44 | 220 | 40% | 3d | 380k | Level 7 | 150 |
| 8 | 48 | 240 | 50% | 4d | 850k | Level 8 | 180 |
| 9 | 52 | 260 | 50% | 5d | 1.7M | Level 9 | 210 |
| 10 | 56 | 280 | 60% | 6d | 3.3M | Level 10 | 250 |
| 11 | 60 | 300 | 60% | 12d | 13M | Level 11 | 300 |
| 12 | 64 | 320 | 60% | 12d | 15M | Level 12 | 400 |
| 13 | 68 | 340 | 60% | ? | 18M | Level 13 | 500 |
| 14 | 72 | 360 | 60% | ? | 22M | Level 14 | ? |
| 15 | 76 | 380 | 60% | ? | ? | Level 15 | 750 |
| 16 | 80 | 400 | ? | ? | 30M | Level 16 | ? |
| 17 | ? | ? | ? | ? | ? | Level 17 | ? |
| 18 | 88 | 440 | 60% | ? | ? | Level 18 | 1200 |
| 19 | 92 | 460 | ? | ? | 44M | Level 19 | 1200 |
| 20 | ? | ? | ? | ? | 52M | Level 20 | ? |
Note - Max level is 20